Music, and every aspect of its creation, research, and interpretation, has been a constant area of interest at the Fundación Juan March since it's founding in 1955. Under its auspices, more than 330 grants and financial aid awards have been given to Spanish composers, performers, and musicologists to work in Spain and other countries and more than 4,720 concerts of diverse categories have been organized. The Foundation has also promoted contemporary Spanish music by commissioning and premiering works, including homages to musicians still at the peak of their careers, by publishing a composer's complete works, and making available to researchers the Foundation's Library of Contemporary Spanish Music. These activities reflect what the Fundación Juan March has realized in the area of music since its founding.
In 1958, three years after its establishment, the Fundación Juan March awarded its first grants and financial aid awards for musical creation and research. Since 1971, it has organized concerts in Madrid and other Spanish cities (in which have participated international soloists and orchestras, like the Orchestra of Saint Martin in the Fields). In 1975, the Fundación Juan March increased its dedication to music with the inauguration of its Madrid headquarters on Castelló Street.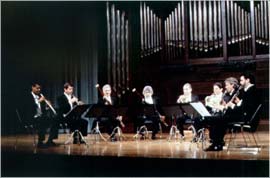 Creation and Study
Financial aid awards for the creation, study, and research of music, as well as those given to performers for the development of their work in Spain and abroad, have been standard practice at the Fundación Juan March. Among the 350 Spanish musicians who have relied on this assistance are such artists as Federico Mompou, Cristóbal Halffter, Carmelo A. Bernaola, Luis de Pablo, Xavier Montsalvatge; performers such as Miguel Zanetti, Manuel Carra, Gonçal Comellas and Jordi Savall; and directors such as José Ramón Encinar, Miguel A. Gómez Martínez or Jesús López Cobos.
In the area of research, more than 100 projects have received the support of the Foundation, ranging from the work of Antonio Fernández–Cid–resulting in the publications La música española en el siglo XX (Spanish Music in the 20th Century) and Cien años de teatro musical 1875-1975 (100 Years of Musical Theater, 1875–1975) —to the cataloguing and critical study of the musical collections and chapter records of cathedrals, collegiate churches, monasteries, convents, and libraries in Castilla y Léon, realized by a staff headed by José López–Calo.